Welcome to TSC Nutrition Services!
Good nutrition and learning go hand in hand.

The Nutrition Services department is made up of a team of food and nutrition professionals that are dedicated to students' health, well being and their ability to learn. We support learning by promoting healthy habits for lifelong nutrition and fitness practices.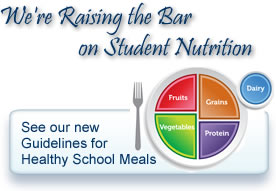 Our goal is to provide your children with healthy, nutritious meals that they will enjoy. This year we have included many reduced fat and/or fat free food items. Our bread products include multi-grain buns and various other whole grain products. Fresh fruits and/or vegetables are offered daily.

We provide students with access to a variety of affordable and appealing foods that meet the health and nutrition needs of students. Meals, foods and beverages sold or served at schools meet state and federal requirements which are based on the USDA Dietary Guidelines.
ATTENTION: MEAL CHARGES

We understand how busy everyone is at this time of the year but we would like to be proactive in order for students to continue to receive school meals. Please check your child's account to ensure their account contains funds. We will do our best to notify parents by email or letters in the backpack when students have the equivalent of 3 (positive) lunches. We will continue to contact parents daily by email or letter.
Please remember student account balances will roll over to the next school year. There is no charge for using myschoolbucks and it can do the reminding for you. It can alert you that funds are low or automatically deposit funds from your bank account to your child's lunch account.
No charging of meals will be allowed after April 28th. Students must have enough funds (in their account or in hand) to cover a breakfast and/or lunch.
If a students balance falls into the negative we will supply a courtesy lunch to the student.
Thank you for your understanding and support of Nutrition Services!
Apply for Meal Benefits at TSC Online Registration Prepay Lunch Accounts Online with Cafe Prepay!