Welcome to TSC Nutrition Services!
Good nutrition and learning go hand in hand.

The Nutrition Services department is made up of a team of food and nutrition professionals that are dedicated to students' health, well being and their ability to learn. We support learning by promoting healthy habits for lifelong nutrition and fitness practices.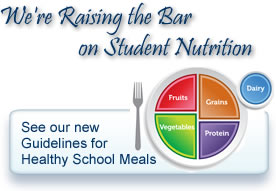 Our goal is to provide your children with healthy, nutritious meals that they will enjoy. This year we have included many reduced fat and/or fat free food items. Our bread products include multi-grain buns and various other whole grain products. Fresh fruits and/or vegetables are offered daily.

We provide students with access to a variety of affordable and appealing foods that meet the health and nutrition needs of students. Meals, foods and beverages sold or served at schools meet state and federal requirements which are based on the USDA Dietary Guidelines.
Attention:Special Dietary Needs

We want all our students to be healthy and we support and environment to safely meet the nutritional needs of all students. We require documentation from an authorized medical authority to assist in identifying students with special needs.
The form is to be completed by a licensed physician (or other medical authority) for students who have been diagnosed with a life threatening food allergy or disability and requires a special diet or food accommodation. Please note, an individual with a disability is described under Section 504 of the Rehabilitation Act (1973) and the Americans with Disabilities Act as well as the USDA's nondiscrimination regulation, as a person who has physical or mental impairment that substantially limits one or more major life activities that all reasonable requests for food and beverage substitutions will be made so the student may eat.
Apply for Meal Benefits at TSC Online Registration Prepay Lunch Accounts Online with Cafe Prepay!